Collection Exhibition
September 17 (Sat.) – December 25 (Sun.), 2022
January 4 (Wed.) – May 7 (Sun.), 2023

THE GIFTS: From the Ando Collection
Arabia, Valencia, 1960–2003

(

Exhibition Period

:

9.17

-

12.25, 2022

)

Ito Hidehito, Vase, celadon, 2018

(Exhibition Period

:

1.4

-

5.7, 2023

)
The Ando Collection is a group of works collected by the Ando Fund, which was established with a generous donation from local businessman Shoji Ando for the promotion of art and culture in Gifu Prefecture. Museum of Modern Ceramic Art, Gifu, which opened in 2002, acquired Rudy Autio's iconic work "Time Piece" (1994) in 2006 as the first work of the Ando collection. Since then, we have collected numerous works through this fund.
In memory of Mr. Shoji Ando, who passed away in 2021, we present here a selection of works from the Ando Collection in two phases. We hope you enjoy this "gift" to the museum and to Gifu Prefecture.
Venue: Gallery II Exhibition Room A
Foreign works from the Ando Collection
Dates: September 17 (Sat.) – December 25 (Sun.), 2022
Artists/Makers
Rudy Autio, Carlos Carlé, Carlo Zauli, Jason Wason, John Bedding, Leo Tavella, Mauro Tampieri, Arabia, KPM Berlin
Japanese works from the Ando Collection
Dates: January 4 (Wed) – May 7 (Sun.), 2023
Artists/Makers
Ido Masanobu, Ito Hidehito, Okazaki Tatsuya, Kato Tsubusa, Kawabata Kentaro, Shibata Mariko, Sugiura Yasuyoshi, Mihara Ken
Collection Highlights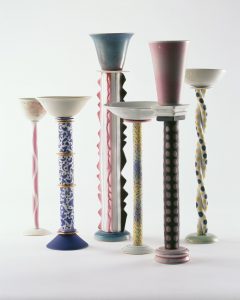 Maria Bofill, Untitled, 1991-1996
The "Collection Highlights" is the room that introduces the features of our museum's collection.
In addition to unique works by individual artists, our museum also focuses on practical ceramic wares intended for daily use and industrial ceramics designed for mass production. This year's "Collection Highlights" features these utilitarian wares, focusing especially on the shape of cup; one of the most basic forms of ceramic.
Please enjoy the rich diversity of ceramic expression through the form of the cup.
Venue: Gallery II Exhibition Room B
Dates: September 17 (Sat.) – December 25 (Sun.), 2022
Artists/Makers
Ido Masanobu, Kawaguchi Jun, Komatsu Makoto**, Kumakura Junkichi, Mori Masahiro*, Nakayama Yasuo*, Takiguchi Kazuo, Angus Suttie, Gabriele Hain, Maria Bofill, Arabia*, Bing & Grondahl, Sèvres**, Leach Pottery**
Some exhibits may be changed depending on the exhibition period.
*:Exhibited only from 9.17 to 12.25, 2022 **:Exhibited only from 1.4 to 5.7, 2023
New Collection Exhibition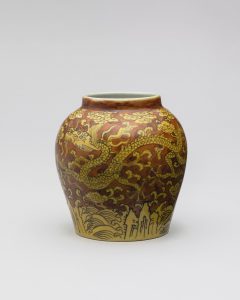 Kato Hajime, Jar with doragon design, yellow and red enamels, 1954
We will exhibit and introduce artworks newly collected through purchase, donation in fiscal year 2021.
Venue: Gallery II Exhibition Room C・D
Dates: September 17 (Sat.) – December 25 (Sun.), 2022
Artists/Makers
Ando Takumi, Kato Hajime, Kato Yoji, Inoue Masayuki, Nakashima Harumi, Kim Simonsson, Ma Huiyuan, Ceramic Japan, Sodeisha (Ando Koichi, Fujino Akira, Hitomi Masatsugu, Ito Hitoshi, Kadowaki Humio, Katsuno Hirokuni, Kawaji Yasunori, Ogiuchi Yoshiharu, Onozaka Mutsumi, Suzuki Osamu, Toba Katsumasa, Tomonari Kiyoshi, Toyoyama Akihiro, Tsuji Kanji,Yamada Hikaru)
Dates: January 4 (Wed.) – May 7 (Sun), 2023
Artist
Kato Hajime
Overview
Venue

Gallery II THE GIFTS: From the Ando Collection Exhibition Room A / Collection Highlights Exhibition Room B / New Collection Exhibition Room C・D

Dates

September 17 (Sat.) – December 25 (Sun.), 2022
January 4 (Wed.) – May 7 (Sun.), 2023


Closed

Mondays (except September 19, October 10, January 9, 2023) , September 20, October 11, January 10, 2023, December 26, 2022-January 3, 2023


Hours

10:00~18:00 (admission until 17:30)

Admission

Adults ¥340  (¥280)/ College and university students ¥220  (¥160)
*Prices in ( ) indicate concessions for a group of 20 or more.
*Free admission for primary, secondary and high school students.
*Persons with disability or with intractable disease and one person accompanying them are admitted free of charge.

Organize

Museum of Modern Ceramic Art, Gifu